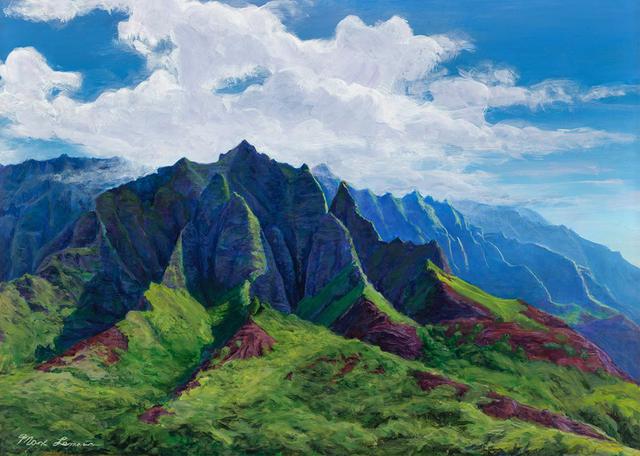 Infinite Arts Gallery in Hanalei
March 3, 2016 9:39 AM
"Infinite Arts Gallery in Hanalei is a fantastic visual experience. It features the work of local artist Max Lemaire. Max works in several media including painting (oil and acrylic), photography, digital, printmaking and woodwork. His styles range from visionary art to surreal dreamscapes to realist portraiture to Kauai landscapes.
The mixture of media, genres and styles creates an atmosphere of expanded possibilities and wonder. Max likes to create works of art that ask more questions than they answer and leave the imagination to run wild. Some pieces art are meticulously planned and executed, while others are made as an ongoing spontaneous conversation with the canvas as it evolves.
Max is often set up just outside the gallery painting or playing guitar. He has been working on more Kauai landscapes recently, capturing the majesty of our mountains with his own unique style.
Originally from New Hampshire, Max has been on Kauai for 6 years and has been visiting for 12. He studied at the School of The Museum of Fine Arts, Boston. While living in New Zealand for 5+ years, he started a custom woodwork business, making one-of-a-kind fine furniture pieces as well as custom massage tables. In 2012, Max in collaboration with photographer Aaron Feinberg started Kauai Canvas, a full service printshop for artists specializing in Canvas Giclée printing and image capture for artists. He has previously exhibited his art work in Boston, New Hampshire, New Zealand, Montana, California, Maui and Honolulu. His work was chosen as part of the Shaefer Portrait Challenge, a portrait competition held every 3 years that exhibits at the Maui Arts and Cultural Center and The Honolulu Museum of Art.
Max's work is also available online at www.infinitearts.com